Edding28 EcoLine Marker
Posted 1 year ago by BowlPhish
NEW - EcoLine Markers are now available!
As you are probably aware, we at The Glass Wipe Board Company want to do our bit to protect the environment for future generations. Already all our boards are 99% recyclable, all our packaging is recyclable and every single BowlPhish glass wipe board is manufactured in the UK, which reduces carbon footprint in comparison to ordering from abroad.
But we are continuously looking how we can improve further when it comes to sustainability, and are happy to announce the introduction of a new line of accessories board markers: The Edding 28 EcoLine marker. If you feel as strongly about the environment as we do, then this marker is for you:
At least 90% of the total plastic used for each dry wipe marker comes from recycled material. This wipeboard marker has a round nib releasing an ink, which can easily dry-wiped from your glass writing board and it can be refilled and used multiple times, making it not only eco-friendly but also economical viable for any office or educational facility.
Visit our Accessories Shop now and order your environmentally friendly Glass Wipe Board Marker today! We can all do our bit to protect the environment.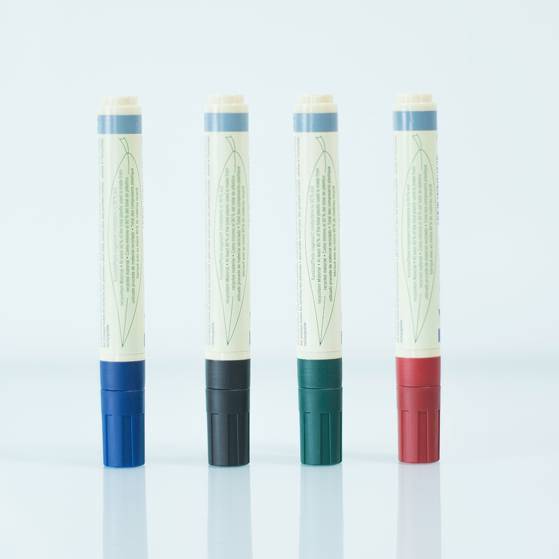 Summary:
eco friendly marker for writing and marking on wall-mounted glass wipe boards and freestanding glass wipe boards
at least 90% of the total plastic used in the marker is made from recycled material (83% post-consumer)
writing is dry-wipeable
the marker ink is light-fast and quick-drying
available non-magnetic as a pack of 4 assorted colours: black, red, blue and green
available as individual magnetic markers in black, red, blue or green
the individual markers are refillable
uses "cap-off" technology, meaning the ink won't dry out for several days if the cap has been left off

no added butyl acetate, a liquid that is easily flammable
Call our friendly expert sales team today on 01303 760779 and let us assist you in creating a more environmentally sustainable work environment.