Bespoke
Glass Wipe Boards
Custom made whiteboards that perfectly
suit your working space
Custom made
glass wipe boards
If you want to make a big visual impact in your office, meeting room or workspace – our bespoke options allow you to stand out with the help of your very own designer whiteboard. Whether you go sleek and stylish, or dazzling and dynamic – we are here to help you create the perfect impression.
If one of our standard 24 colour options isn't for you – then why not choose a custom coloured whiteboard; colour matched to your choice of Dulux, Pantone, RAL or Farrow and Ball shade. Painted in-house at our specialist UK manufacturing facility, your custom made whiteboards can be designed to match your brand colours, your workspace or room theme, or simply to make a big statement.
We also offer custom printed whiteboards - totally customisable graphics printed directly and permanently onto your boards. This could include company logos or branding, or designer artwork to make your tailor-made whiteboards really stand out. We can even print planners, calendars or charts onto your board – helping you manage your tasks, plans and workflows effortlessly.
But it's not just the colour of your custom glass whiteboard which you get to design. We offer bespoke sizing options – allowing you to create a huge range of stunning effects in your workspace; whether that be a full wall of glass whiteboards, a stylish and dynamic coloured strip of glass writing panels, or custom boards to frame a screen or room feature. The options are endless
Our bespoke whiteboard options are available across our entire range and include custom magnetic whiteboard products in both wall-mounted whiteboard and freestanding mobile whiteboard ranges. Our team of experts is on hand to help you every step of the way in deciding and developing your perfect custom solution.
Bespoke glass boards
Our custom options are available across our entire product range – whether you're looking for wall mounted glass boards or mobile freestanding whiteboards in a choice of magnetic or non-magnetic, we can create your perfect custom printed magnetic board to your exact specifications.
Whatever size, colour, style, branding, graphics or planners you choose, our dedicated team is here to help every step of the way - and you can be sure of both quality and low carbon footprint thanks to our custom printed whiteboard UK manufacture.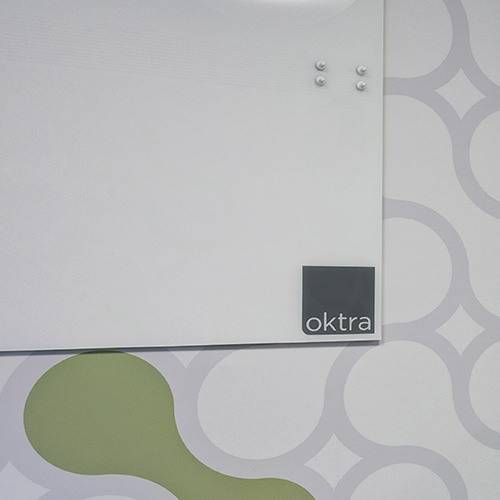 Choose Your
Colour
Our glass wipe boards are available, as standard, in a choice of different 24 colours. We can also colour match on request – allowing you to personalise your board in brand or office colours.