Wall Mounted
Glass Wipe Boards
Magnetic glass whiteboards with
visible or hidden fixings
Wall Mounted Boards
Stylish magnetic glass white boards and wall mounted glass panels in your choice of size and colour
Whether you're looking for a single glass wall writing board to capture meeting notes, or a full whiteboard wall to make a strong visual impact – our wall mounted glass board will help you get the most out of your space.
Available in a huge range of bespoke sizes and colours – every wall mounted glass board solution is made to order - so the sky really is the limit! We only sell glass wipe boards – so whether you want to include your logo, a handy planner, or bespoke graphics to your wallmounted whiteboard - our team here at The Glass Wipe Board Company are experts in helping you come up with the perfect, stress-free solution.
Our wall mounted glass whiteboards come as magnetic as standard – allowing you to magnetically 'pin' your ideas and documents, while still maintaining a tidy and damage-free workspace. Whiteboard glass walls are also easy to clean and don't stain over time, so you can be sure they'll always look smart and presentable.
We offer two choices of fixing options; hidden fixing if you want to create a great effect with invisible magnetic glass wall panels, or visible fixings for a whiteboard on glass wall effect.
Whichever fixing option you choose, a glass whiteboard wall from us is easy to install; typically, as little as 15 mins. Our wall mounted glass wipe boards are suitable for all major wall types – allowing you to have a sleek and stylish magnetic glass wall in almost any workplace situation and setting.
Whiteboards with hidden fixings
Our glass whiteboards with hidden fixings are our most popular product. This low profile magnetic glass writing board is made from beautiful glass and will grace the walls of your office beautifully.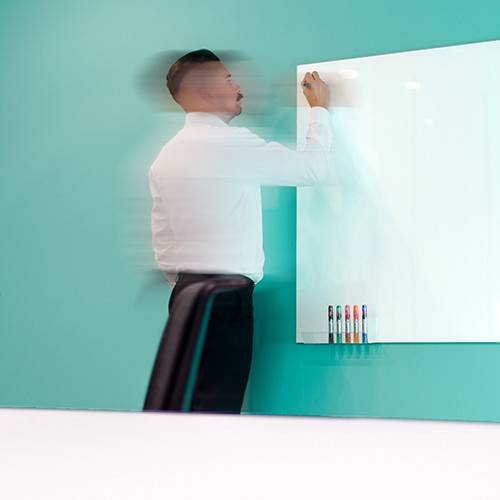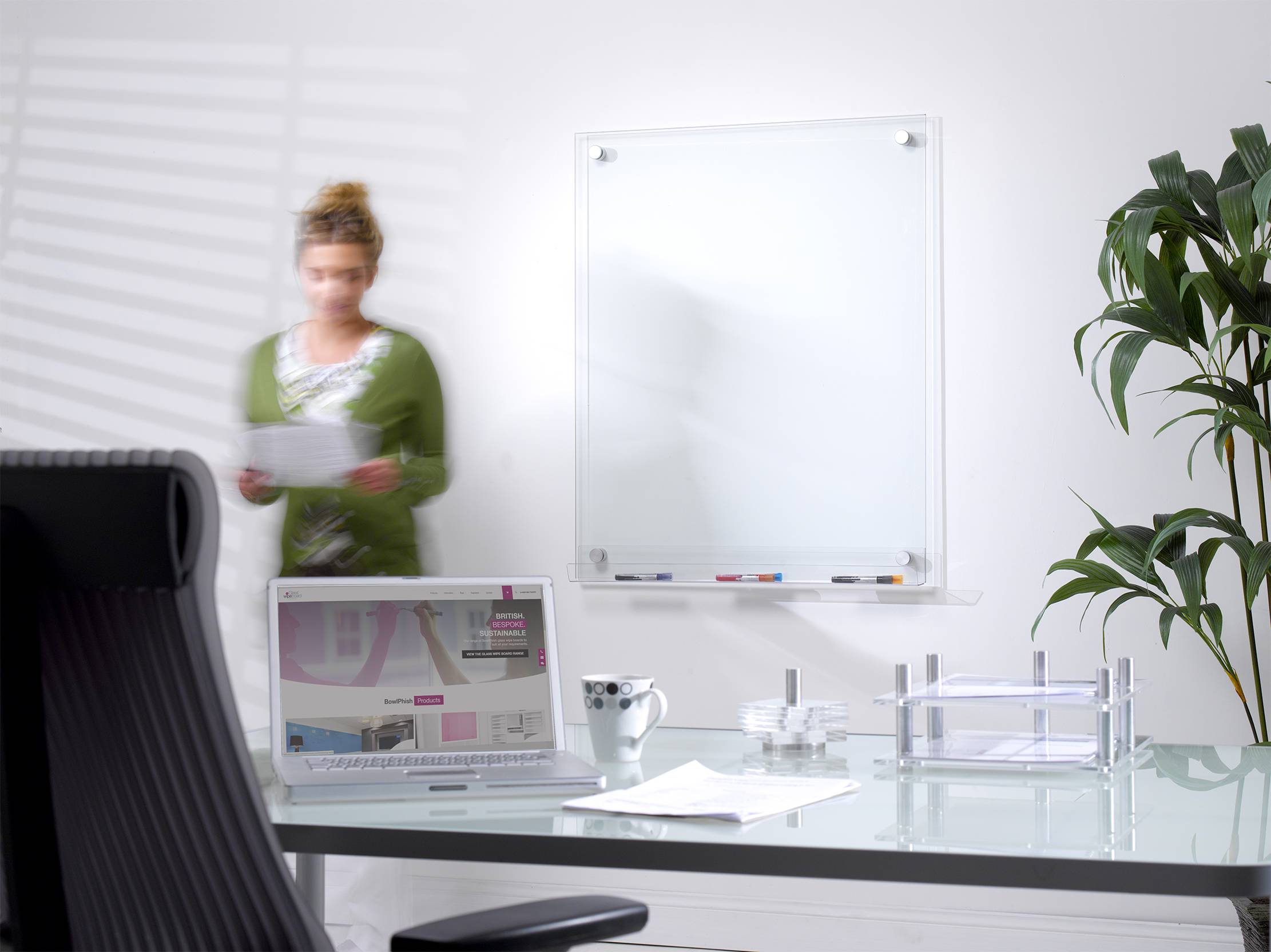 Whiteboards with Visible Fixings
If you prefer visible aluminium fixings on your magnetic glass writing board, then our visible fixings range is for you. Our fixings are anodised aluminium with bevelled edges which adds to the quality and design.
Choose Your
Colour
Our glass wipe boards are available, as standard, in a choice of different 24 colours. We can also colour match on request – allowing you to personalise your board in brand or office colours.
What Our Clients Say
We have purchased several boards which are by far the best available. The company is great to deal with, very professional, friendly staff nothing is ever to much trouble. cannot say enough good things about the Glass Wipe Board Company.


Ali, Stowe School

I was looking at a solution for Glass wipeboards for our Head Office where during brainstorming colleagues to write on the walls etc.
We initially hired a contractor to paint the walls white but this does work when we wiped the marker pen away it left a residue.

I then had a look on the internet for another solution and found The Glass Wipe Board Company and sent them the measurements of the glass wipeboards i required and once paid they were received in a couple of weeks and installed pretty easy and the office now looks fab and colleagues around the business have all commented the wipeboards look great, easy to fix and install and also easy to maintain.

Mohammed

Woodhaven Space and our clients are absolutely delighted with our Blue and white Glass Wipe board from The Glass Wipe Board Company, another fabulous British company - entrepreneurial like us and an absolute pleasure to do business with, exemplary customer service and a fabulous product thank you we have recommended you too !

Nicky