TEDxFolkestone 2018
Posted 2 years ago by BowlPhish
TEDxFolkestone 2018 & The Glass Wipe Board Company
As a loyal social media follower of The Glass Wipe Board Company, you will have noticed that we recently shared and liked some TEDxFolkestone posts.You wonder: TEDxFolkestone and The Glass Wipe Board company, how does this fit together? There is a good reason.
In its second year, TEDxFolkestone is to return to the Quarterhouse this coming Saturday, and The Glass Wipe Board Company is also going to be part of the event again. Even our glass wipe boards will make an appearance for the second time running.
Courage to Step Beyond
The theme for 2018 is 'Courage to Step Beyond'. Speakers will offer a personal interpretation of this and apply it to their own insights, experiences and stories. With courage, people can push past the boundaries created by fear to achieve extraordinary things and discover they personally possess almost unlimited potential to achieve. With courage, we can all reach beyond our comfort zone, to develop and grow.
Ideas are needed to fuel innovation in today's fast-changing world. They can come from anywhere, and anyone.
This year's speaker line up:
Lucy Beresford - Infidelity: to Stay or Go?


Soti Coker - What's the story behind your Data?

Cathy Sugden - Horses - Let Go of the Reins

Roger Evernden - Becoming your many Selfes

Steph Slack - The Questions we need to ask about Male Suicide

Rupert Gather - How to be a Patriot in an Age of Globalisation

Sophie Bryan - Could Montessori be the Answer to a better Workplace?

Julie Creffield - Living a bigger Life

Ben Chai - Cowardice, Courage and how extreme reading made me Fearless

Silas Houghton Budd - The Courage to save a Life

Britt Whyatt - Courage to Continue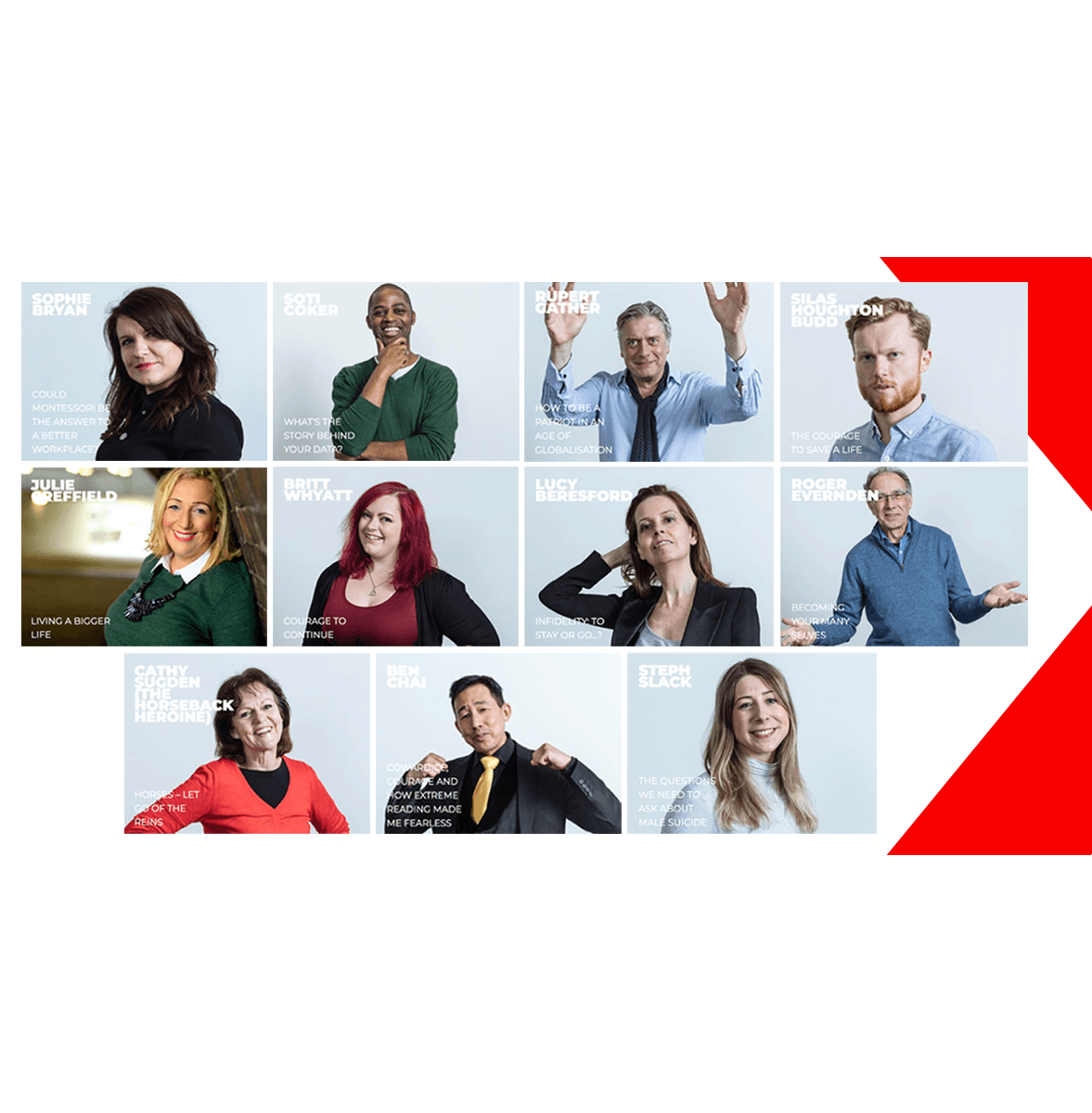 What is TEDx?
In the spirit of TED's mission, "ideas worth spreading," the TEDx program helps communities, organizations and individuals produce TED-style events at the local level. TEDx events are planned and coordinated independently, on a community-by-community basis, under a free license from TED.
About TED
TED is a non-profit organisation devoted to Ideas Worth Spreading. Started as a four-day conference in California 30 years ago, TED has grown to support its mission with multiple initiatives. The two annual TED Conferences invite the world's leading thinkers and doers to speak for 18 minutes or less. Many of these talks are then made available, free, at TED.com. TED speakers have included Bill Gates, Jane Goodall, Elizabeth Gilbert, Sir Richard Branson, Nandan Nilekani, Philippe Starck, Ngozi Okonjo-Iweala, Sal Khan and Daniel Kahneman.
So, why do we sponsor this event?
Because, The Glass Wipe Board Company shares TEDxFolkestone values, such as:
• Thinking BIG and outside the box
• Communication
• Sharing free ideas
To only name a few. Discover more in our little YouTube video clip about TEDxFolkestone & The Glass Wipe Board Company: