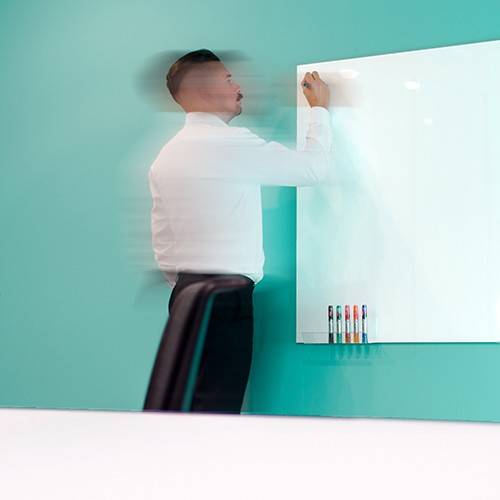 BowlPhish Hidden
The BowlPhish glass wipe board with hidden fixings is our most popular product. This low profile magnetic glass writing board is made from beautiful glass and will grace the walls of your office beautifully.
Standard Size - Smallest
300mm (w) x 600mm (h)
Standard Size - Largest
2400mm (w) x 1200mm (h) - Can also be installed as modular to cover larger areas
Magnetic glass boards with hidden fixings
BowlPhish magnetic glass wipe boards can be used in a multitude of ways: brainstorm ideas, plan your work or host interactive meetings with Glass Captcha. Our magnetic glass boards with hidden fixings look clean and sleek, offering a professional rather than institutional aesthetic. Why limit yourself to one? The boards look great in multiples alongside each other.
Choosing a BowlPhish glass wipe board means you'll benefit from the highest quality product with a lifetime surface guarantee. Our glass wipe boards are supplied with clear installation instructions and are easily installed.
Coloured glass wipe boards that blend seamlessly
Coloured glass wipe boards with hidden fixings blend seamlessly into your room. They call out to be written on and your ideas will seemingly hang in mid-air just waiting to be grasped. Our magnetic glass writing boards come in 24 fabulous colours. Choose one to match your office decor or pick an eye catching hue to inspire creativity.
There is nothing standard about a BowlPhish magnetic glass wipe board. Let us craft you a bespoke glass wipe board that is as unique as your business. We can match almost any colour, why not mirror your corporate colours? As well as our regular sizes, we can make your glass board in any size you want.
Wide range of colours
With 24 exciting shades to choose from, we are sure you'll find the perfect colour for your glass wipe board, but if you want another shade, don't worry we can match almost any colour at a little extra cost!
excellent Product and great customer service
The product does what it says on the tin. The only thing that would have made the product better was if after using the small magnets that they are really only for about two pieces of paper to hang on the board.
Date of purchase:
07/05/2019
Great service , great product , trouble free installation
Great product and easy to install
Date of purchase:
19/04/2019